Report of World Water Day 22nd March 2019
The Institution of Engineers (India) Faridabad Local Centre celebrated its World Water Day on 22 nd March 2019 at Haryana State Productivity Council, Faridabad. The theme for the event was "Leaving No one behind". The event was inaugurated by lighting the lamp of knowledge by members present on the dias.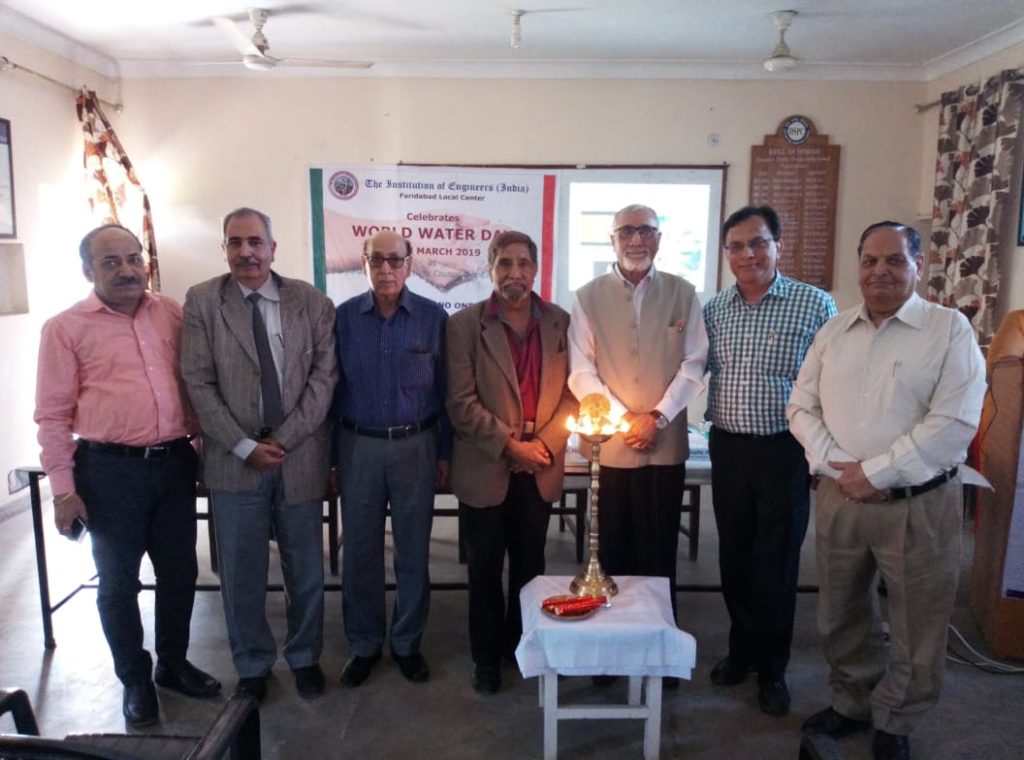 Er. Subhash CHANDER, Chairman while delivering the welcome address stated about the Cape town case of water scarcity wherein to avoid the water crisis , citizens were limited to 50 litres of water per person per day. He expects that today's engineers can play an important role to overcome this crisis by using technologies such as Bharat Electronics Atmospheric Water Generator that can be used to generate water straight from the humidity present in the atmosphere.
4 Technical Papers were presented by Consultants, Industry Entrepreneurs and University Representatives. Er. Sushil K Bajaj, presented the use of safe water in Construction Industry. He deliberated on the district wise historical fluctuation of water table table and the pollutants present in 50 samples of ground water lifted from random spots along 22 km stretch in and around NCR. Er. K.R. Gupta , presented on the theme Leaving No One Behind wherein he deliberated upon the slogan whoever you are, whatever you are , Water is your human right. He also asked us all of to take pledge that we must focus our efforts towards including people who have been marginalized or ignored. Another eminent speaker, Dr. Sanjay Gupta , structural engineering professor, MRIU presented on the remedial measure prevent from Global water deficient in ocean by minimizing subsidence and hydro power . He also deliberated that private sector investment in green infrastructure can reduce water related risks and help to fill infrastructure needs. Er. Sandeep Handa, Honorary Secretary presented on the topic Water for all. He deliberated on the theme that the human right to water entitles everyone, without discrimination to sufficient, safe, acceptable, physically accessible and affordable water for personal and domestic use. He also gave facts and figures about water availability for drinking, water treated in city utilization. Based on the above theme, a quiz activity on World Water Day was held. Mr. Vignesh Mand Mr. H.R. Garg emerged as the winners of the Quiz activity and were honored. All the speakers were also honored.
Er. J.P. Malhotra, Past Chairman concluded the session with Vote of Thanks and expressed his gratitude to all the speakers. He emphasized for the collective Pledge that, we all should endeavor to put in our best efforts to conserve the precious Resource, so as to inherit Clean and Fresh water for our next Generation as a basic necessity, for improved and healthier living, by avoiding Water Pollution and Wastage. Attended by 28 participants , the event was a grand success.
Er.Sandeep Handa , FIE
Honorary Secretary